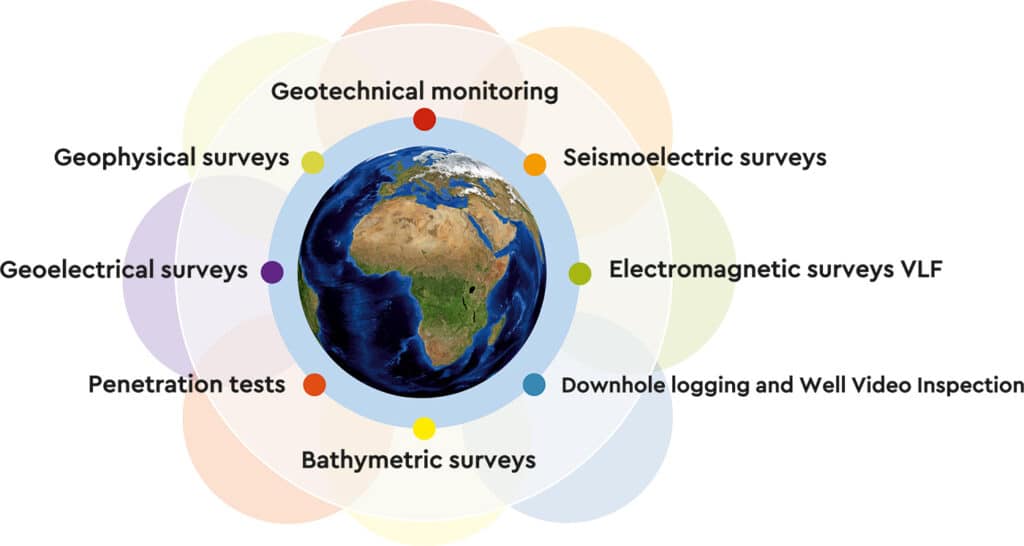 Sismoelettrica is a company born in Florence in 2020 with the aim of providing precise technical consultancy concerning traditional geognostic technologies through in situ tests (penetrometric tests CPT, CPTe, CPTu, DPSH and DL30) and geophysical and electromagnetic surveys (seismic refraction tomography , geoelectric and surveys using VLF instrumentation) and innovative (vertical electrical seismic investigations and tomographic reports on permeability and porosity derived from proprietary algorithm) dedicated to the research and analysis of water resources, at low and deep depths (geothermal low and medium enthalpy), environmental and archaeological analysis and the discovery of oil tanks. We provide a complete service, from the preliminary investigation, to the use of WELL logging instrumentation using a multiparametric and sonic probe in the drilling hole, up to the final analysis using video inspections with a high resolution camera, up to a depth of -1000 m.
We work in Tuscany and throughout Italy for individuals and companies and we are always ready to develop new collaborations and technologies with other professionals and technical studios.
The advantages of Sismoelettrica
1 - The data produced generate a complete mapping of the subsoil, in its geological, geotechnical and hydrogeological elements;

2 - Complete service from the surface geophysical investigation to the analysis of the hydrogeological and geotechnical characteristics of the subsoil, to the visual analysis of the water collection works carried out;

3 - The costs and times of detection and analysis are reduced as much as possible in view of a complete service.